Readers of the Leicester Mercury continue to respond to my request for information about the former Bradgate house at Groby – recalled in an old photograph featured recently on this page.
I now know the property – majestic in both proportions and appearance – which was demolished in around 1926 had been built some 70 years earlier for George Harry Grey (1827 – 1883) the Seventh Earl of Stamford and stood on a site now occupied by Redland Aggregates offices – the current Bradgate house on the A50.
The photograph (above) comes from Mr David F Thorpe, of Ulverscroft. The original house had a specially constructed elaborate ornamental lake which must have provided an outlook for many windows.
Mr Thorpe also sent me a very faded copy of a photograph taken outside the house in January 1882. It shows a shooting party which included the then Prince of Wales – later Edward VII. Unfortunately the image is so feint it will not reproduce here.
Mr Anthony Squires, of Cosby explains – the Seventh Earl of Stamford was a descendant of Thomas Grey Second Marquis of Dorset (grandfather of Lady Jane Grey, England's 'Nine Days Queen') who in the early 16th century built the mansion which is now the familiar ruin in Bradgate Park.
"Bradgate House, Groby was just one of the Seventh Earl's wild extravagances since at the same time he was spending a fortune on the Turf," says Mr Squires.
When completed the house was described as 'Calendar House' as it was said to have 365 windows, 52 rooms and 12 main chimneys.

The stable block alone – built in mock Jacobean style – still standing but in a near ruined state – cost all of £30,000 which was an absolute fortune in those days.
Alas a house which was the Earl's pride and joy would he comparatively short lived and meet an inglorious end being sold for demolition in 1925.
Following the publication of the second edition of their book on Bradgate Park Mr Squires (Tel. 116 2865278) and his co-author and researcher Joan Stevenson are continuing their long term study of the Greys.
"We would he pleased to hear from anyone who has memories or memorabilia concerning the family they would care to share with us and record for posterity," says Anthony Squires.
The new house was to replace the original family seat at Bradgate Park that had been abandoned in the 18th century for the estate at Enville in Staffordshire.
Commanded beautiful views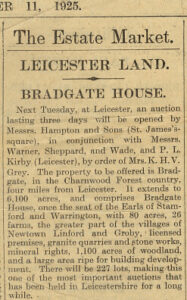 Miss L Clarke of Barrow-upon-Soar, sends me this extract from the 1877 edition of White's Directory regarding Bradgate House:
The Right Hon George Harry Grey, the present Earl of Stamford and Warrington and Baron Grey of Groby, was born in 1827 and succeeded his father in 1835 as Lord Grey.
He built a large and handsome mansion here in 1856 called Bradgate House, in which he usually resides during the hunting season. It is in the Elizabethan style of architecture surrounded by extensive and tasteful pleasure grounds, commanding beautiful views and distant about six miles WSW of Leicester. The stables near it are very fine and have accommodation for 50 horses.
Miss Clarke tells me that several years ago when travelling from Markfield along the A 50 to Leicester she spotted, through the trees on the left before reaching Groby, the red brick ruins of a house and then found the inscription, plus the house on the map in the book. She was delighted to see a picture of the house in its heyday.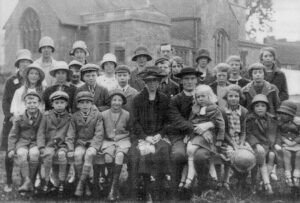 Special Sunday School tea at Bradgate House
Mention of Bradgate House, Groby when it was occupied by the Everard family in the early decades of the 1900s caused Mrs Christina (Nancy) Hopkins (nee Bland) to search amongst her childhood souvenirs.
She found exactly what she was looking for – a photograph taken in around 1923-24 when she and her best friend Ida Warrillow were in a party of youngsters from All Saints Church Sunday School at Newtown Linford who went to Bradgate House for a special tea.
"We walked up Markfield Lane and along a bridle-path which came out near the stable block and I remember seeing fox hounds in kennels there".
The tea was served in the big house (which sadly would be sold for demolition not too long afterwards) and the out- standing memory of the occasion wasn't the sandwiches, jellies and fancy cakes, but the fact a lady spoke to the children through a microphone – a contraption none of them had seen before.
It proved a great source of fascination – how something which looked like a box on the end of a long stick could make her voice travel to the furthest corner of the large room so that they could hear every word without straining their ears.
As a child Mrs Hopkins – the youngest of nine – also remembers going to Bradgate House to fetch raspberries and other soft fruits grown in the kitchen gardens there which her mother made into delicious jam. She was born on Christmas Day 1916 and the family home was Rose Cottage, Main Street, Newtown Linford – across the road from where Mr Talbot the Everard's chauffeur lived. "For a long time we rented the cottage for a shilling a week which eventually went up to two shillings. By the time I left there in 1954 – married with twins – the rent had reached four shillings a week," she explains.
The other picture of Bradgate House (above), sent in by a reader who prefers to remain anonymous, shows a view of the house from a different angle to the original I published.