Memories of Martinshaw Lodge
[Also know as the Woodkeeper's Cottage, situated on the edge of Martinshaw Woods just to the west of the village of Groby in the Parish of Ratby.]
My Great Aunt, Aunty Betty Wood, (My fathers Maternal Aunty) was born in 1912 and lived all her life (apart from her last few years) in Martinshaw Lodge. Her parent's had lived in the Lodge and when she married my Great Uncle Ian he moved into the Lodge and stayed with Betty and her mother.
I remember visiting from being a young child in the 1960's until the late 1990's. (Betty died in 2002).
The walk down to the house from Ratby seemed long as you couldn't get a car down the lane. Aunty Betty wore an old fashioned hearing aid and had her hair tied up in side plaits over her ears (a bit like Princess Leah in Star Wars) .Aunties house was always full of dogs and ornaments of dogs, she had in the early years a rainwater tank outside the back kitchen as her water supply and also an old fashioned pump outside the back which I always loved to play with as a child, trying to prime the pump to get water from the well (which I think may have dried up after the M1 was put through the area).
Toilet facilities were provided by an outside toilet down the garden which was not connected to the mains and consisted of a wooden seat with a metal container under, which was collected by the council when full. There was a large wooden summer house in the garden with an old fashioned mangle in it, again great as a child to play with. My mother tells me that my Great Uncle Ian used to spend most of his time in the summerhouse due to health problems, he died before I can remember him. Nothing much changed over the years apart from I remember Aunty Betty getting running water in the kitchen being quite a big event.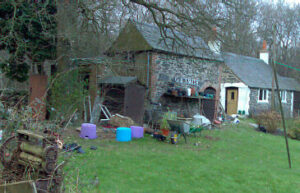 I visited the area last year and took pictures of the Lodge, now renovated, I see the summerhouse has gone and the mangle lays rusting in the garden. I have also included a picture of the Lodge from I think the 1970's whilst Betty still lived there.
I am tracing my family tree and the Woods originated from Ratby and Groby, I wonder however if you have any way from local knowledge of finding out what Betty's maiden name may have been. Sadly there is now no-one left on my father's side of the family and I can find no details through the ancestry sites I use.