Anti-Social Behaviour Suspicious Drink Driver REPORT
Hello,
PLEASE, PLEASE, PLEASE report any incidents or concerns you have directly to 101 Non-emergency, 999 emergency or online at https://www.leics.police.uk/ . This ensures your concern can be risk assessed, logged on our system, allocated to an officer or resource assigned to attend your incident when it is happening. Please also notify us immediately to give us the opportunity to help. This is really important and saves a lot of confusion, misunderstandings and helps us with our investigations.
No reports of vehicle crime or residential burglary to report.
Whilst completing patrols in Burbage, officers stopped a vehicle and the driver was arrested for the offence of driving whilst over the prescribed limit of alcohol.
We are currently investigating a report of a suspicious male on Rugby Road Park. No crimes have been identified yet but we are working to establish if there are any concerns. We would always remind residents of personal safety just like we teach our children around "Street Smart". Stick to open, well-lit areas, carry a phone, be aware of your surroundings. If you would like any support please get in touch. Darren.stretton@leicestershire.pnn.police.uk or visit https://www.leics.police.uk/cp/crime-prevention/protect-yourself-from-crime/stay-safe/
In response to resident feedback, we have completed a community speed watch event. Locations were Windsor Street, Church Street, Rugby Road (40Mph zone), Hinckley Road and Woodland Avenue. The MVAS box is currently located on Sapcote Road. We have tried to attend the locations at the times that residents stated were a concern. We will continue with these events based on your feedback. (please give locations, times and days) we get around as many as possible but the locations we don't get to will be done next time.
Pictures from Burbage Inf/Jnrs regarding our Road Safety competition for the children. Hope the parents are taking note. Some great pictures trying to change the mentality of those who choose to park dangerously outside Schools.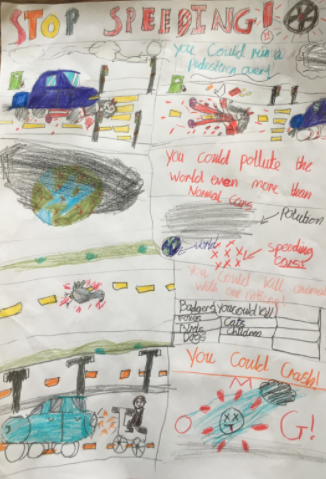 We are continuing with our work around the recent Anti-Social Behaviour. Whilst it is vital that we are able to challenge this behaviour and put a stop to it, I would also ask that we as adults lead by example. The majority of children have done amazing throughout the last 12 months and we must all appreciate that some children will be having problems that most of us wouldn't consider. Whilst residents can help us identify those involved and ensure there is a consequence for bad behaviour, we must also be given the opportunity to investigate and get the best possible outcome for you or the community. We have completed some great work with the youth of Burbage over the years and the parents overall have been extremely supportive to us. This includes home visits, warning letters, School visits and restorative justice (giving something back to the community/victim).
Thank you and take care.
Darren 6035
It is really useful is you RATE, SHARE or PRINT this message. You can also REPLY directly to me if you wish to communicate with me.
Did you know you can report crime and incidents using our online portal. Please visit https://www.leics.police.uk/ Click on REPORT .
In an emergency dial 999
Please do not report crime or Incidents via 'Neighbourhood Link' as the messages are not always monitored.