A few facts about St Philip & St James Church
St.Philip and St. James Church was built in 1840 by the Earl of Stamford owing to the distance to Ratby Church from his home in Bradgate House, and 'to the foulness of the way there'. Henry Grey, the 7th Earl of Stamford, decided to build a chapel of Ease at Groby for the princely sum of £2,300.
Although Groby had no church prior to 1840, it is recorded that in earlier times two or three chapels existed here. After the Norman Conquest in 1066, many castles were built throughout the country.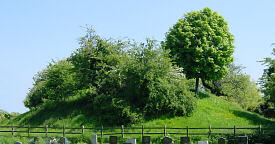 Hugh de Grandmesnil held land near Groby from William the king and consequently built a castle here on land near Groby churchyard. Like all Norman castles, it was erected on a mound or 'motte', the remains of which – although greatly diminished – can still be seen from the churchyard. The extension to the chancel in 1912 uncovered the foundations of an ancient settlement and Norman castle, which was the home of Elizabeth Woodville before becoming Queen of England as wife of Edward IV (the marriage was declared invalid in 1483). The Woodvilles were ancestors of Lady Jane Grey.
The organ was installed in 1924 and was powered by electricity in 1938 when the supply was brought into the village. On 1st July 1948, with the Queen's approval, St.Philip and St.James was given parish church status.
Text kindly supplied by the Spotlight magazine