John Hughes & Phil Symons Big Day Out, in Groby!
(From the class of '61)
How many of us as fresh faced five year olds, on our very first day at school, look around the classroom and think 'will any of these children be classed as 'true' friends fifty years from today'?  Well none of us of course, we are far too young and nervous to be thinking of anything other than 'when can I go home?', but about a year ago my great buddy, John Hughes, pointed out to me that it was fifty years ago that we both embarked on our path through education at the Groby Infants School on Leicester Road.  Fifty years!  Surely, we should commemorate that occasion, but how?  We decided to take a literal stroll down memory lane, and if we could take in a few local hostelries along the way, then so much the better.  This, interspersed with a few loosely related meanderings and babblings off piste, is my account of that day – 11/08/12.
After throwing together an approximate route that would start at my old family home in Groby and end up in Markfield, via Johns former abode at the Field Head, we decided it would be fitting to visit a couple of the teachers from our formative years.  I had phoned ahead to ask Miss Mason from the Junior School at Martinshaw Lane and Mrs Brewer, our very first teacher at the Infants School, if they could spare us a few minutes to pore over some old school day memories.  I'm so pleased now that we took them flowers, and not the traditional apple that was offered to gain teachers approval back in the 1960's!.  The look on Miss Masons face when John thanked her for helping him to learn to swim at the old baths on the corner of Avenue Road and New Street in Coalville (those trips on the bus seemed like major excursions back then) was priceless.  I reminded her that apart from later being her paperboy I have always loved Bach's 'Jesu  Joy of Mans Desiring', the piece she would play perfectly on the piano as we entered the school hall for morning assembly.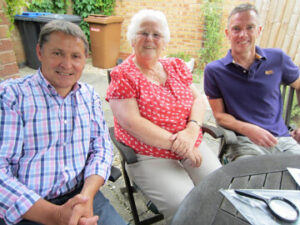 Next, armed with a grainy old black and white photograph of the class of 1961, it was on to visit Mrs Brewer.  Not only could this remarkable lady put names to all twenty nine faces of that year's intake, she could remember the names of our siblings also.  Clichéd as it may sound, we recounted incidents and events from those days as if it were yesterday.  It seems that not only was Mrs Brewer our teacher, she was also our nurse, as  John recalled how she had tended to an eye injury he incurred and I remembered how she had come to my rescue after I had fallen into a dense patch of stinging nettles whilst trying to retrieve a football.  A huge thanks to both ladies, not just for today but for all the tuition, guidance and care they gave us back then.  Thanks also to Mike Brewer who very kindly printed us off some clearer copies of the class photo.
So now it was time to visit the school buildings, opposite the Post Office at the top of Leicester Road.  Both schools, Infants and Juniors, built around 1873, stand side by side, the former now a private residence, the latter, the village hall.  We would have to settle for photographs of the buildings' exteriors.  Or so we thought.  The present day owners of the Infants school took time off from their gardening to invite us in to look around.  No evidence now of the old wooden desks with built in ink wells.  No blackboard, no Janet and John books.  But this wonderful old building, a mini Hogwarts with its thick, solid stone walls and archways has retained its original majesty.  No need these days of course to wear duffel coats and scarves indoors in the winter as we did in those pre-central heating days.  I could remember exactly where I had sat in class in both of the rooms that once made up this wonderful old structure.  What a bonus to be shown some old photographs of Christmas parties and class gatherings that had remained in the school all these years.  A massive thanks to Pete and Ruth for kindly allowing us inside their home.
More photographs of both schools, then it's across the road (without the help of the Lollipop Lady!) to the Post Office.  No sign today of those magnificent old glass jars of sweets that used to adorn the front window.  No pear drops, pineapple chunks or white chocolate mice.  And long since gone is the old 'penny box' I'll wager, where we would invest out coppers on Black Jacks, Fruit Salads, Sherbet Flying Saucers and Bazooka Joe gum.  I never did save enough wrappers for that Swiss Army Knife!
Stopping briefly outside the Working Men's Club, the meeting place on Saturday lunchtimes for us Groby footballers before away games, we pass the chippy, the old blacksmiths where the old Smithy had let us watch him shoeing the horses on our way home from school, and Chaplin's the family butcher.  We had considered going down to the field on the road to Groby Pool, where we had once played in our first proper team, the Goby under 10's, managed by the great and enthusiastic Scot Jock Fallon.  But as the old changing room (shed) and pitch are long since gone, we move on.  A good time though to recall the various teams that we had played for together over the years.  Apart from representing Groby at both Junior and Senior (then aged about 18 or 19) levels, we had also notched up hundreds of games for school teams at the Grammar School in Coalville and later at Markfield and Whitwick Compass.  Football played a major part of life back then and having played for many seasons at Rolls Royce on both Saturdays and Sundays, and a very cosmopolitan team, River Road Rangers, during my time living in the USA, I ended up playing my last couple of seasons for Groby again.  Those games played up at the Community College were a real treat especially as we would always end up 'refreshing' ourselves at today's next stop – The 'Stanny'.
The Stamford Arms Pub, in the village centre, is where I sampled my first ever pint, Double Diamond if memory serves (though only just, as the barmaid that day was a near neighbour of ours and threatened to 'tell my mum'.  I am not sure why, I must have been a "couple days" shy of my eighteenth birthday).  It was well over twenty years ago since my last visit, but as John and I sat down to enjoy our liquid lunch, it was like I had never been away.  Main topic of conversation?  Football of course, and football to us, now the boots are well and truly hung up, means Leicester City.  Aged nine in September 1965, my Dad had taken us young lads, along with Mark 'Chizzy' Chiswell, to watch the Foxes take on Sunderland.  A superb 4-1 victory and we were hooked.  The days, and nights, spent in the Popular Side and on the wall behind the goal at the Spion Kop end are etched in the memory.  Sinclair, Goodfellow, Dougan, Gibson and Stringfellow were not just the forward line that season, they were all on badges on my blue and white knitted bobble hat.  What a treat to watch Banks, Shilton, Rodrigues, Sjoberg, Nish etc., lock horns with Best, Law and Charlton; Moore, Hurst and Peters; Greaves and Gilzean.  And of course we had local hero Graham Cross. 'Crossy' would often join in our kick abouts in the field behind his house on Field Court Road. I was so impressed by his exploits for the City and County Cricket team that I wrote a letter detailing his versatility to Goal magazine. The signed photograph accompanying the article is still one of my most prized possessions. The highs and lows back then? Many, but 1969 probably held both in the space of a few days.  I will never forget the euphoric explosion of joy when Allan 'Sniffer' Clarke scored the late winner at Hillsborough in the FA Cup Semi Final against West Bromwich.  Or, for that matter, the utter dejection of being told that all the Final tickets were sold as Dad and I queued for hours outside Filbert Street.  A double blow followed of course as City lost the final to Manchester City and were also relegated to Division Two.  Just as I am about to lift the spirits and start spouting about the glory days of Martin O'Neill, John wisely suggests we drink up and move on.
We make our way from 'The Stanny', up the hill to the village Church, to pay an old mate a visit.  This was the same journey we had sadly made back in 1981.  Clive Pitt, another of the original class of '61, was cruelly taken from us in that year, a victim of Leukaemia at the tender age of 25.  John and I recalled two abiding memories of that day at the funeral.  One was the huge array of friends and family who had gathered  (no surprise as Clive was as gentle and kind a guy you could hope to meet), and secondly the dignity and courage shown by Clive's adoring parents Pam and Ernie, as they found the inner strength to smile and thank each and everyone of us for attending their only child's funeral.  A lot of valuable, but hard, lessons were learnt that day.  How fitting then, that today the sun shone on Clive's headstone as John and I recalled the hilarious moments that our old mate could conjure up with his practical jokes and impressions.  Poignant as it was, considering his total hair loss due to his treatment; his 'Kojak' was brilliant, as was his Derek Guyler.  Cheers Clive.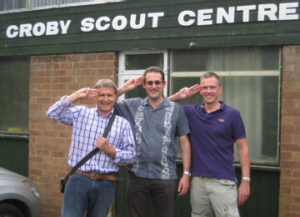 Heading out of the village, our next port of call is the Scout Hut.  Was it still there?  Well the old gravel path that we used to walk or cycle up was blocked by new buildings.  So back to the main road and a scramble up the grassy bank, through the small wooded area, and there it was.  As luck would have it, due to a children's party, the hut was open, and we were welcomed in by Paul, the current Scout leader and his able assistant, Sean.  The old building was exactly as it had been when John and I were Sixer and Seconder respectively (he always was in charge) of the Otter Patrol, Leicester 73rd Scout Troop, circa 1970. If truth be known, I joined the Scouts purely on the premise that after meetings, a five-a-side football game usually broke out, sometimes for up to two hours.
I am glad I joined though as the camaraderie and feeling of being part of a group was great.  I loved building zip wires through the trees, the raucous singing around the camp fire and the swimming and canoeing in the old Lawn Wood quarry.  But best of all were the camping trips, usually to the Peak District, in the old Army lorry.
No health and safety regulations back then.  Sean and Paul had heard tales of "Bosun" driving the old vehicle here, there and everywhere with an entire troop of us lads hanging on for dear life in the back.  Seat belts ? No chance. Hang onto the tailgate and hope for the best.  Great  times.  As were the Scout disco's.  Saturday nights spent trying to pluck up the courage to ask the local girls to dance to T Rex, Slade, Credence Clearwater Revival and the various Motown acts of that era, were often interrupted by the forbidding entrance of rival gangs from New Parks and Glenfield.  Mayhem usually ensued.  Fun times nevertheless.  Thanking Paul and Sean, John and I set off on the short journey across the playing field (it was an ugly black slag heap back then) to take a look at Martinshaw School.
This was the third and final seat of learning we attended pre high school.  As the front gates were locked we could only view from afar.  John mentioned he had one stand out memory of our days here.  Three guesses.  "Passing the eleven plus surely", I said.  After all, the thought of not being able to emulate our big sisters, Anne and Jane, and go to the Grammar School at Coalville didn't bear thinking about.  "No, try again", said John.  Honing our soccer skills with a tennis ball in the school playground or playing kiss chase with a feigned broken ankle?  No.  Ah, first interest in the opposite sex?  My feelings for a certain young lady were kept a tight secret, though I'm guessing in hindsight she may have had an inkling of my affections  – after all, she was the only girl I offered my lovehearts to (more goodies from the Post Office) whilst stammering with a crimson face!  As an aside, earlier in the day John and I had mused how music plays the backing track to our lives.  How certain songs can transport us back to an exact time and place.  Any early Rolling Stones number and I'm back on the Waltzers at the fair that used to come to the field behind Dr Smalls surgery at the top of Ratby Road.  I can recall the great excitement and expectation of a new single due to be released by the Beatles, Kinks, Hendrix  and  The Who.  Just the guitar intro to 'Waterloo Sunset', even before Ray Davies opens his mouth and I'm back in that classroom, trying in vain to be cool as I offer 'her' my confectionary.
But I digress, no Johns overriding memory of Martinshaw was us charging down the school hall full pelt, dropping onto our backsides and sliding right off the end of the highly polished floor, down the flight of steps and landing in a heap at the front entrance doors of the school.  The risk of performing this feat had to be weighed up against that of being caught by the lurking School Secretary, Mrs Morris, who would march us off by the ear to her even more feared husband, the headmaster.  But then what was a slap across the legs with a ruler compared to the unbridled joy of "the slide"?
Off next to the Field head, but time was against us.  There was less than an hour left before we were due to be picked up by John's wife, Margaret, and taken off for some much needed sustenance.  We were still in Groby, and the plan was for the 'tour' to end in Markfield, a good three miles away.  As luck would have it, a bus arrived at that very moment, and off we went.  Lucky "chaps" we joked.  Having been dropped off outside John's old family home, he stopped to chat to a couple of old neighbours as if he'd never left.  I went ahead, as any good scout would, to "get them in" at the Coach and Horses, Johns old local.  No sign of Arthur the old barman in his white jacket and black bowtie, or David Lane the landlord.  A friendly young barmaid served us with our pints of Tiger, just as those aforementioned gentlemen had years ago. She looked slightly bemused as two middle aged punters took photographs of each other in the bar, recreating poses from times past. She directed us to an old photograph of the pub from around a hundred years ago – I'm not sure just how old she thought we were! Margaret arrived to whisk us away to the Queens Head in Markfield, where we swiftly downed another pint, Pedigree this time, whilst chatting to some old footballing colleagues.  I think we'd still be there if we hadn't previously booked a table at the Curry house where my wife Nikki and daughter Hannah were patiently waiting.
Having downed another couple of beverages and a splendid 'Ruby' (should that now be 'Andy'?) and after watching Mo Farrar glide to gold in the Olympics 5000 metre final, we ended a perfect day.
As we were driven to our respective homes, it struck me that our celebratory tour had barely covered the first half of our 50 year friendship, leaving much scope for future expeditions,  maybe to the hotspots of such far flung places as Leicester and Coalville – maybe even Torquay, Benidorm and Lloret de Mar. All places we visited, along with our other great mates Roger and Nigel, purely for cultural and historic interest of course! But that was for another day. I would thoroughly recommend to anyone looking to mark a milestone in their life to revisit some of the people and places who form the fabric of their history.
Thanks John, a true and loyal friend. Here's to the next 50 years!